best motorbike tour in north vietnam
,
best motorbike tour in Vietnam
,
best motorbike tour organizer in vietnam
,
best motorbike tour to north vietnam
,
best motorbike tour to northwest
,
best motorbike tour to Sapa
,
best motorbike tours north west vietnam
,
best north vietnam motorbike tour
,
best northern vietnam motorbike tour
,
best vietnam motorbike tour to ha Giang
,
best vietnam motorcycle tour organizer
,
Ha Giang motorbike tour
,
motorbike ride in north vietnam
,
motorbike ride north vietnam
,
motorbike tour in north vietnam
,
motorbike tour sapa
,
motorbike tour to Ha Giang
,
Motorbike tour to Mai Chau
,
motorbike tour to northwest
,
motorbike tour to Sapa
,
motorbike tour vietnam from hanoi
,
motorcycle touring Vietnam
,
motorcycle tours vietnam
,
north vietnam motorbike tour
,
northwest motorbike tour vietnam
,
sapa motorbike tour
,
short vietnam motorbike tour to Mai Chau
,
thac ba lake
,
vietnam motorbike tour
,
vietnam motorbike tour to Ha Giang
,
vietnam motorbike tour to Sapa
,
vietnam motorcycle tours
Duration:
10 Days / 9 Nites
Destination:
Mai Chau - Moc Chau - Son La - Lai Chau - Sapa - Yen Bai - Thac Ba Lake - Hanoi
Northwest Vietnam Motorbike Tour – 10 Days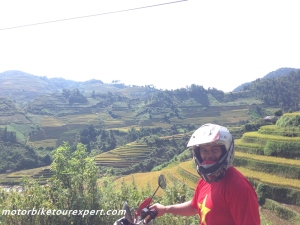 Northwest Vietnam where most of the ethnic people in Vietnam locate is famous for high mountains and beautiful passes with the amazing terrace fields and always  is the best choice for bikers to do motorcycle touring in Vietnam. Vietnam Motorbike Tour Expert designs this 10 day northwest Vietnam motorbike tour for ones who wanna have full view of mountains' beauty in northwest such as Mai Chau valley, Sa Pa,  Son La and Thac Ba Lake..They are almost outstanding destinations in north Vietnam. It is one of our best Motorbike Tours Northern Vietnam.
Day 1: Hanoi Motorbike Ride To Mai Chau.  160 km.
Leave the crazy city traffic behind by starting the Northwest Motorbike Tour from western outskirts of Hanoi. After two hours riding, we will be in the mountain area have enjoyable time to feel breathtaking landscape of  Halong bay on land with the rice paddies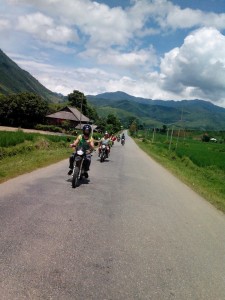 between limestone mountains. Keep striking northwest and cross two passes and then dropping down to the beautiful valley of Mai Chau. This is the short motorbike ride today from Hanoi but it should be one of the best motorbike ride in north Vietnam. We will finish the ride in Mai Chau valley at 5 PM and  stay overnight with friends of the White Thai minority in a traditional house on stilts. In the evening, after feasting, we can enjoy a cultural show of Thai dancing and a range of special local liquors.
Home stay in Mai Chau
Day 2: Mai Chau – Phu Yen.  140 km.
Today is our relaxing day . We can start the day with a easy walk around the village or be lazy with a local café on the stilt-house to feel the peace of the countryside or view the daily life of the local . After saying goodbye to the Thai people we ride to the direction of Moc Chau and turn to the less traveled Road 43 leading to the Da River. After crossing the reservoir of Da river at Van Yen ferry, we ride on a beautiful winding  road until Phu Yen, the road is along the Da river lake, between the river lake and mountains so it offers great view, it is like a motorcycle tour on the coastal roads in central Vietnam. This is the easiest and most enjoyable motorcycle tour in north Vietnam. we arrive Phu Yen town at around 4:30 PM.
Hotel stay in Phu Yen

Day 3: Phu Yen – Son La. 160 km.
Continuing the Northwest motorbike tour Vietnam on the almost empty Road 37 we enter mountains heavily populated with Black Thai people, who work on large terraced rice fields. The winding road passes through many Thai villages and fields and provides a great opportunity to watch country life
passing by. We continue through rolling hills before rising up to the sugar cane growing areas on the cooler plateau Son La. This Northwest Vietnam motorbike tour to Son La is another easy ride but you won't feel boring because you will see many things in difference from the mountain view of 2 days before.
Overnight in Son La – Hotel stay.
Day 4: Son La – Tuan Giao. 140 km.
After breakfast, we head to northwest from Son La, the road crosses a series of mountain passes and areas of busy Black Thai activity. Children walk to school, kids tend buffaloes, women plant rice seedlings and men pull the buffalo. Just ride slowly and enjoy the good motorbike ride on a small, quiet and winding road between green mountains , Then we come to the beginning of the very long and steep Pha Din pass where at the top we have vast views of the surrounding mountains, then motorbike ride down on the other side on very steep sealed road.
Overnight in Tuan Giao – Hotel stay.

Day 5: Tuan Giao – Sin Ho. 180 km.
Keep heading to northwest from Tuan Giao the road passes isolated communities of Hmong and Thai people, whose small villages settle on the banks of dark green rivers and on the steep slopes of the mountains. After lunch by a forest stream the road begins to
climb up the high Sa Tong pass. At the top for sunset before dropping sharply into the deep Lai Chau valley. Muong Lay town was sunk in early 2010 and our new place for accommodation is Sin Ho, a small remote town.
Stay in Sin Ho – Hotel stay

Day 6: Sin Ho – Sapa. 120 km.
As experienced tour guides, we suggest to get your cameras ready with a full battery because we will ride on one of the most beautiful mountain passes in Vietnam – the O Qui Ho pass and the motorbike tour to Sapa today is one of the best motorbike ride in north Vietnam. We will head straight toward the main Fanxipan Mountain range. There is also the option for a very challenging back route which takes us through several river crossings. The massive mountain range dominates the road until finally we must make a splendid climb up from Binh Lu and up to the top of the highest road in Vietnam (Tram Ton heaven gate). Crossing into Lao Cai Province at over 2,000m above the sea level, the view looks out over the main range for miles and miles, before we descend to the mountainous Sa Pa valley. Overnight in Sapa.

Day 7: Fresh Body Up in Sapa.
Depending on the group's mood, we can either take it easy in Sa Pa town, or make excursions back to the top of the highest pass in Vietnam, or have short Sapa motorcycle tour along the amazing Muong Hoa valley – one of the most beautiful valley in Vietnam with full of terrace rice fields and colorful hill tribes.  The entire region is populated by Hmong, Giay, Tay and Dao people. Stay in Sapa. Vietnam Motorbike tour expert's sugguestion is to take a good body massage to refresh the body after some riding days
Day 8: Sapa Motorbike Ride to Luc Yen. 180 Km.
Ride down from Sapa and then through palm forest all the way to Luc Yen and stay in a Dao family who live in the Tay territory. It's a great home stay, very typical of Vietnam hill tribes and the hosts are very welcoming.
Home stay in Luc Yen
Day 9: Luc Yen – Vu Linh. 80 Km.
It's a relaxing ride on a winding road with a nice mountain and lake view.  This north Vietnam motorbike tour to Thac Ba lake is almost on the rugged road a long the lake. We finish the motorbike ride by noon at the village of the Dzao people who located on the Thac Ba
lake bank.
After lunch, taking a boat trip around Thac Ba lake – the largest man-made lake in Vietnam for around 2 hours. You will have chance to see Halong bay on mountain area.
Day 10: Vu Linh – Hanoi. 180 km.
After breakfast we cruise southeast on Highway 2 and then branch off to the sleepy town of Phu Tho. We follow the edge of the Red River along the dyke, almost to the point where it merges with the Black River after which they flow together to Hanoi. By now we are very much in the lowlands of the delta plains and the north's main agricultural areas. Harvest time here is a sea of activity. Crossing the Black River by bridge, we pass through Son Tay and then return to Hanoi on the highway. Finish the best 10 day Vietnam motorbike tour to Northwest safely before rush hours.
Please click here to view the route !
Please let us know which kind of bikes you'd like to ride and how many people in your group then we will give you the right price of the tour.