motorbike coastal road
,
motorbike ride in central highlands
,
motorbike tour coastal road
,
motorbike tour from ho chi minh city
,
motorbike tour on coaslines
,
motorcycle tour on coastline
,
nha trang motorbike
,
Nha trang motorcycle tour
,
saigon motorbike tour
,
South vietnam motorbike tour
,
vietnam motorbike tour
,
Vietnam motorcycle tour
Duration:
7 Days / 6 Nites
Destination:
Ho Chi Minh city - Long Hai Beach - Mui Ne beach - Bao Loc - Dak Mil - Lak Lake - Nha Trang - Da lat
Motorcycle Tour on Coastline and Highlands Vietnam – 7 Days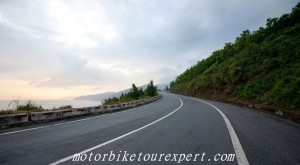 This 7 day motorbike tour from Ho Chi Minh city is one of our best collective motorcycle tours on coastal roads and Central highlands Vietnam. Most of the roads on the tour are suggested by the local that offers beautiful coastlines and cross through famous and interesting attractions in South Vietnam and central Highlands. The Motorbike Tour starts from Saigon or Ho Chi Minh city and finish in Da Lat town.
Day 1: Saigon Motorcycle Tour to Long Hai Beach – 140 km
Start the 7 day motorbike tour from Saigon at 8:30 Am. Hit the road straight to La Gi town, visit Minh Dam Army Base, Thuong Chieu Monastery pagoda, dip your body in the hot water springs, Binh Chau, open your mind to learn more about Buddhism when you go to visit Long Ban old pagoda and the historic vestige Dinh Mountain. Stay overnight in the hotel next to the beach of Long Hai.
Day 2: Long Hai  –  Mui Ne –  130 km
It is a short ride today but it could be one of the best Vietnam motorcycle tours on coastlines. We can do some stops to visit the Champa's villages and their temples to learn more about the Cham's  history and culture. Finish the short but enjoyable coastal road motorbike tour with a great swim at Mui Ne beach – one of the best beach in Vietnam.
Stay in Hotel
Day 3: Mui Ne Motorbike Ride to Bao Loc –  160 km
Leaving Mui Ne beach in the early morning with a short motorbike ride on the coastal road to some rustic fishing villages, have enjoyable time with fairy springs, red canyon and amazing white sand dunes, have talk with the local to know the daily life of farmers who plan the dragon fruits. And then Continue the 7 Day Southern Vietnam Motorbike Tour to the Central Highlands, we will stop in the K'ho ethnic minority village to learn more about their culture also the colorful hill tribe's lives in Central Highlands. Arrive in Bao Loc after visiting Dambri waterfall – about 90 meters high. Over night in Bao Loc
Day 4: Bao Loc – Dak Mil –  170 km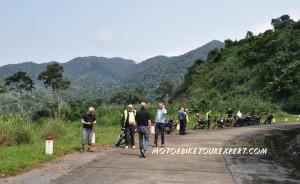 Keep motorcycle touring in Central Highlands Vietnam to Dak Mil, the motorbike ride in the highlands today offers great chances to visit the green tea farms, the colorful Di Linh Market with different cultures and customs of hill tribes, enjoy the hospitality of the E'de hill tribe by visiting their beautiful wooden long houses, We can have a short trek through the nice rainforest to see the beauty of the area. Arrive in Dak Mil around 5 pm. Stay in Hotel
Day 5 : Dak Mil Motorcycle Tour to Lak lake – 165 km
Today is another enjoyable motorbike tour in Central Highlands Vietnam. We will ride through the Dray Sap and Dray Nu waterfalls (one of the most beautiful waterfalls of Vietnam) before have a great Ho Chi Minh trail motorcycle tour up to the north to the Lak lake. The Motorcycle ride on Ho Chi Minh trail offers plenty of historical sites and the breath-taking nature of the areas, we can have stops at some roadside villages to learn how the locals make rice papers, noodles, or trek to the top of elephant mountain to enjoy the panoramic views of the area, and then travel to Lak Lake before the sunset to have some great shots of M'nong Ethnic minority's fishermen on the lake. Overnight in Lak lake. We can choose to do home-stay or stay in the guesthouse.
Day 6: Lak Lake Motorbike Tour to Nha Trang – 195 km
You can ride elephant or have a boat ride to cross the Lake. After that we can have ashort walk to the village of the M'lieng and M'nong people to learn more about the culture of the hill tribes in Central Highlands Vietnam and see how the local make chopsticks, incenses. Then continue the Southern Vietnam Motorcycle Tour on stunning mountain roads of Phoenix Pass. We will then stop for a visit at the natural hot water springs to enjoy the nature and its beauty. Arrive in Nha Trang around 5 pm, check in the room and stay in Hotel.
Day 7: Nha Trang Motorcycle Tour to Dalat – 150 km
Start the last day of the Southern Vietnam motorcycle tour lately with a relaxing ride through peaceful countryside of the mountain area, explore the daily life and cultures of different ethnic minority groups. Learn about the farmers who cultivate goods on their lands such as flowers, coffee, tea, mushrooms… And then motorcycle up to Da Lat then arrive the town and end the great 7 Day Motorbike Tour on coastlines and Central Highlands Vietnam at around 4 PM. Check in the hotel of your choice and say good bye to the staff of Vietnam Motorbike Tour Expert.
Please contact and tell us which kind of bikes you'd like to ride and how many people in your group then we will give you the right price of the tour!