MOTORBIKE TOUR MEKONG DELTA & CENTRAL HIGHLAND
When planning for a motorbike tour in Vietnam, many bikers think about the tour to the mountainous areas in Northern Vietnam with incredible mountain view, ethnic cultures… But they don't know much about southern part and central highland where we can show you different beauty of Vietnam or the things some people can call  the "MUST SEE". In order to show you all beauties of Vietnam, the local team of Vietnam Motorbike Tour Expert would like to invite you to join this special 10 Day/9 Night Tour covering almost Me Kong delta and the nicest parts of Central highlands.
Day 1: HCM – Ben Tre: 175 km (70% back road & off road – Homestay)
8:00 AM, Our tour guide and all bikes are ready at your hotel then we will start the tour after fitting the gears. It will take you around 1 hour to escape the busy city, and then mostly on scenic back roads through peaceful villages, huge farm of dragon fruit, larger green rice fields… also crossing a lot of ferries , narrow bridges… you will be in lovely place which called the kingdom of coconut in the south of Vietnam in late afternoon. You can stay at a basic standard hotel or home-stay.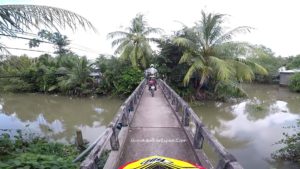 Day 2: Ben Tre – Can Tho: 200 km (80% back road and off road – Hotel)
Stand on your bikes after the breakfast, a lot of single tracks, bridges are waiting for you. Riding through many villages where you are welcomed by local people with big smiles. Arriving in Can Tho around 4:00 p.m, get a room in hotel and waiting for the floating market in the next morning. That's a very special local market that they said "never been in the floating market, never been to Mekong Delta" (Hotel stay)
Day 3: Can Tho – Chau Doc: 220km ( 90% back road & off road – Hotel)
We call today is a day of bridges; you can't remember how many bridges you pass through. A lot of beautiful canals follow you from the beginning until the end. The highlight for today is Tra Su cajuput forest, a must-see destination in all of Mekong Delta. It is also a mangrove forest, covers an area around 850 hectares with a lot of species: storks, snakes, turtles….. 1 hour on the boat trip to discover the beauty of the forest. After the forest, another short ride to the top of mountain where you can see the sunset and also the border between Vietnam and Cambodia. (Hotel stay)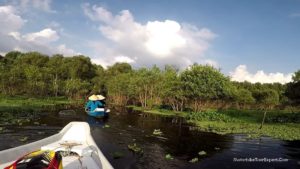 Day 4: Chau Doc – Cai Be or Ben Tre: 170km  (80% back road & off road – Hotel )
Another typical day of motorbike touring Mekong Delta with large and green rice fields, monkey bridges, ferries crosses….Today if the final day of the Mekong Delta part so enjoy every stop and take as many pictures as you can.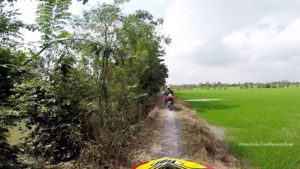 Day 5: Cai Be or Ben Tre – Vung Tau: 170 km (70% back road & off road – Hotel)
The last rides in Mekong Delta in the morning before you are heading to the coast. if the weather is fine, so you can have a long boat trip to Vung Tau, a beautiful city with nice beaches. If the sea is rough or you don't like to be on the boat, we can continue riding to. Check in the hotel then you have free time on the beach.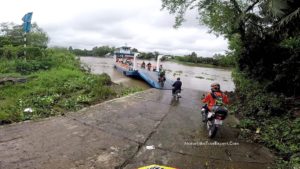 Day 6: Vung Tau – Mui Ne: 220km (smooth coastal roads – Hotel)
Full day riding along the coast with a lot of beautiful beaches on the way, you can stop and go for quick swim if you want to. If you like water sports, you can do wind surfing, Jetsky…This is one of the best day for the one who love and looking for a motorcycle tour along coastlines in Vietnam.
Day 7: Mui Ne – Da Lat: 180km (50% back road and off road – Hotel)
Say good bye to beaches, we're heading to Da Lat up to the highland, where you can have four seasons in one day. Some back roads through pine forests look like you are riding in Europe and some off road through coffee plantations before you end up at the hotel. Night market after dinner is a good idea before goes to bed. (Hotel stay)
Day 8: Da Lat – Buon Me Thuot: 220km (60% back road & off roads – Hotel)
Bun Me Thuot (BMT) is well-known as a capital of coffee in Vietnam. Riding motorbike through coffee plantations you will know how they grow and harvest, stop more on the way to try local coffee if you are interested. We do have elephants in Vietnam, and they mostly stay in this area. If the time permits, you can try elephant riding on the way to our hotel.
Day 9: Buon Me Thuot – Kon Tum: 245km (mostly stay on HCM trails – Hotel)
Long easy ride on HCM trails, it is smooth and windy roads with spectacular sceneries: waterfalls, swing bridges…1 hour to visit the ethnic museum to know more about cultures in the highland before check in the hotel (Hotel stay)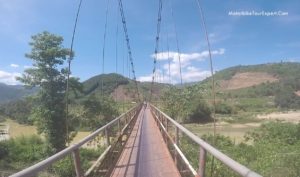 Day 10: Kon Tum – Hoi An: 300km (mostly on HCM trails – end the tour)
The biggest day to end the great 10 day motorbike tour Mekong Delta and Central Highlands Vietnam. The route is pretty easy and smooth on the Ho Chi Minh road. It takes about 7 hour riding through the coffee plantation, the view of nature and countryside on the roadside don't make you boring but if you can start earlier the day, we can see more historical/cultural sites such as: My Son Holy land, same architectures as Angkor Temples in Cambodia. We will end the tour in late after noon in Hoi An. Say good bye to the team of Vietnam Motorbike Tour Expert and enjoy your time in Hoi An/Da Nang
Note: This itinerary is only an example route. You can do it longer in Mekong Delta or Highland… All up to you.
Just tell us how many days you have and what you are interested in. We will make a suitable route for you.
Please tell us how many people in your group and the type of bikes you'd like to ride on this tour then we will give you the right price of the tour! Please click contact us for more details.