Mai Chau Valley – "Another planet" – quite close to Hanoi.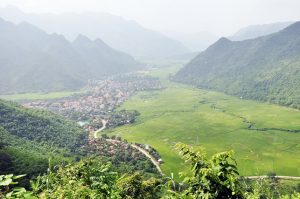 Mai Chau valley is a rural district of Hoa Binh province in the northwestern region of Vietnam. The scenery, lovely people and the great local food of Mai Chau attract more and more tourists. Its population of nearly 56.000 (year 2009) with a mixture between The Muong and The Thai people who mostly live in the wooden houses on the stilts make Mai Chau become a beautiful land with rich culture.
It is also famous for its stilt houses – the type of houses which is constructed from bamboo and timber. The houses are about 2 meters off the ground in order to avoid water damage and shelter animals. Most of foreign and domestic tourists who come to Mai Chau choose to do home stay with the local. That the best way to experience the culture and the hidden charm of Mai Chau.
How to get to Mai Chau? There are 3 different roads to the valley. Most of non-adventure tourists take a bus tour then drive straight from Hanoi on the big and busy highway No 6. It takes just about 3.5 hours from Hanoi city center; however you can just follow Vietnam Motorbike Tour Expert, we will show you Mai Chau with our way. we will take you there by smaller roads, a bit longer such as: the very old roads built by the French, the Ho Chi Minh trail… but you will get chances to see more interesting things about countryside of Vietnam, get away from tourists and have concept what the Real Vietnam is.
Anyways, Mai Chau is one of the best places to do motorbike ride in northern Vietnam. Vietnam Motorbike Tour Expert can design 2,3 or 4 day motorbike tour to Mai Chau. In addition, Mai Chau is always a "must include" in all Vietnam motorbike tours for any Vietnam bikers.