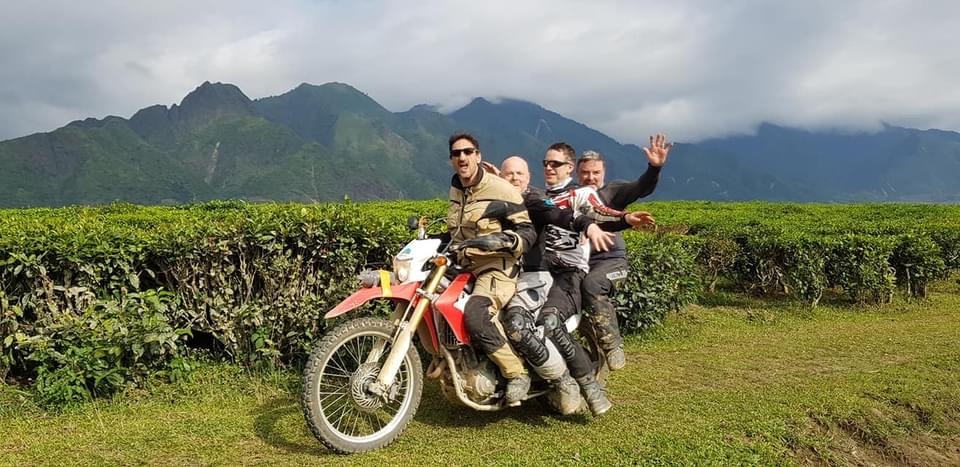 Why we should choose touring North Vietnam or Northwest Vietnam? As it said "4 wheels move your body, 2 wheels move your soul", And we thing a motorcycle trip to Northwest Vietnam with Vietnam Motorbike Tour Expert will move it well even it changed the life of some riders…Northwest Vietnam is mountainous area with amazing view of nature, it's also home to various kind of ethnic people in Vietnam where you can learn a lot about what is happy life. There are many attractive places in Northwest Vietnam but here are some of the places if the "must see" list:
Mai Chau is considered as a gate leading to the north Vietnam. If you wanna do any motorcycle tours to North Vietnam from Hanoi, you must pass here. It's just 140 km from Hanoi, 3 hours on the bus to get there. But we prefer to take the back roads, dirt tracks through jungles, rice fields, doing some small river crossing before arriving at Mai Chau. It will take longer, around 180 km instead of 140 km on the main road. Homestay is something you should do instead of staying in the hotel. Mai Chau has become more commercial in last 5 years. It's very touristy, especially at the weekend however the scenery, friendliness and fresh food here will forever make you love.
Mu Cang Chai
Mu Cang Chai is around 300 km on the main road from Hanoi, but as mentioned before, we prefer to ride on back roads and dirt tracks, so it will be longer to ride motorcycle to Mu Cang Chai from Hanoi. It will take us 3 days riding to get there. The motorcycle ride from Hanoi to Mu Cang Chai would nerver make you disapointed as pecially the ride from Mai Chau up to Mu Cang Chai, it will be along the border with Laos, 20 km on the dirt tracks, that'll make all the fans of dirkbike riders happy. The border track will end at Moc Chau, a beautiful highland in the north Vietnam. Stop somewhere for lunch before riding through a lot of tea plantations, river crossing by ferry, then hotel to have rest before the next ride.
The next ride is a short but harder, 80% offroading. Some famous destinations on the way such as: Dinosaur Spike… The sceneries on the way will make you wow all the time. If the weather is good, this day will be the perfect day for picturing. Another homestay at Muong ethnic family with a lot of good traditional cuisines will end a perfect day.
Mu Cang Chai is known as the best place in Vietnam for beautiful unique rice terraces. There are 4 best beautiful passes in the north of Vietnam, and today you will ride over one of them, called Khau Pha pass. There are some famous tourist sites in the way like: Raspberry hill, Mui Hai point… but we won't take you there, we will take you somewhere less tourists and show you something different from what we've seen before. Hotel stay before the next ride up higher to North Vietnam. That's all why Mu Cang Chai becomes more and more popular for motorcycle touring in North Vietnam. Contact Vietnam Motorbike Tour Expert for more details.

North Vietnam's most favourite destiantion – Sapa is a touristic town up to 1600 meters above sea level, one of the famous tourism destinations in the north Vietnam. Beside the amazing view of nature, motorcycle tourer can discover the rich in cultures in the region, there are 13 different ethnic groups living in Sapa. It has everything in the town: 5* hotel, fine dinning restaurants, pubs, bars…However staying in a homestay out of Sapa town is a better choice because Sapa town is too touristy and very commercial, tourists sometimes are disturbed by local vendors… We prefer a peaceful village far from a noisy town, staying with local ethnics, sharing cultures… But for people who love pizza, fine dinning restaurants, luxury hotels… staying in the town is a good idea.
Thac Ba Lake is located in Yen bai province, apart around 220 km from Sapa and just around 180 km to the north of Hanoi. It's the biggest man made lake in North Vietnam. After the easy ride from Sapa down to the homestay on the bank of the lake, a boat trip is waiting to take you go swimming right in the middle of the lake. It's a highlight for today. A big farewell party at the homestay to congrat that the northwest loops is nearly done.
The last ride from Thac Ba back to Hanoi is around 180 km. All rides are on the side roads, no traffics until the last 20km to the center of Hanoi.
The local team of Vietnam Vietnam Motorbike Tour Expert organize plenty of tours to Northwest Vietnam from Hanoi with many options from 2 – 23 days, please just contact us and we will together design the most suitable one for you.
That's all reasons why we can all North Vietnam is the dream land for the fan of motorcycle touring