How we organize motorbike touring in Vietnam
If life is a journey, let it be an interesting one!
With dozens of years of guiding and organizing motorbike tours in Vietnam, we are experts in knowing what, where, and how to ride a motorcycle tour as you wish and how to make a suitable or incredible tour for all kinds of riders. We also know for sure that flexibility is the most important thing to make motorcycle trips suitable most to motorcyclists. Vietnam Motorbike Tour Expert is trying the best day after day to care about your trips and just to make them the most relaxed and enjoyable motorbike trips. Please view the ways we make motorcycle touring in Vietnam below:
To have a smooth motorcycle ride from beginning to end, all our tours depart from the outskirts of a busy city where traffic is quiet, and during the trips, we will choose to ride on the way with less traffic and beautiful views; However, to ride motorbike in a mass of crazy city traffic is sometime interesting experience so if any experienced riders want to try it we will say "YES". Most of our tours start and finish in Hanoi however upon your request we can design the tours to start and end in any city of Vietnam.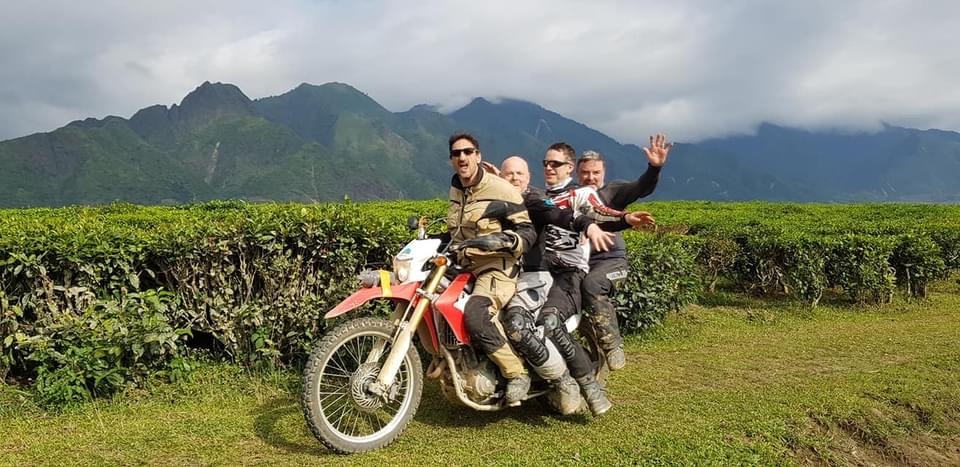 All our guided motorcycle tours include from 1 to 2 tour guides. They all have a good demand for interesting mountain routes, therefore, you just ride safely after them and enjoy the scenery and special things along the way. For us, the thing to make a wonderful trip is not where to go but it is how to go, who to go with, and what to see along the way. Those influence the way we make Vietnam Motorbike Tours for you.
We always do our best to design a motorcycle tour itinerary that can be most suitable to your wishes, and we are ready to accommodate those unexpected developments that may alter your plans at the last minute (travel delays, bad weather, changing road conditions, illness…). We are flexible and always willing to discuss making necessary changes to your itinerary. For example, a challenging and extra technical off-road day can be tentatively scheduled: People with new-found riding confidence can elect to try it, while others with illness or fatigue might opt for an easier route.

Motorcycle touring is a special holiday on 2 wheels therefore our tour experts will count on you not to ride too long or too short a day. Tours usually start around 8.30 AM and end at "beer o'clock" – around 5 PM. We will make a stop every hour (The maximum is 1 one-hour ride, somewhere stops every 20-30 minutes ) to visit special attractions, enjoy scenery, take pictures, or have a rest with local drinks… (We are touring in Vietnam, not racing. Right?)
"What to do with the luggage?" is a most popular question and our answer is that on our tours each rider has his/her bike with saddle bags so we can help to keep your small luggage safely in the saddle ones or tie your bigger bag at the back of your bike. We also provide a support vehicle ( if you request) which can carry whatever you would like to bring with you.
Our tours can also easily be designed to include free days to give you unescorted time to completely relax on your own. Take a rest between riding days, go fishing in a mountain lake, or spend an extra day at our favorite region in the quiet backcountry of green hills, rice fields, or a little beautiful town between the mountains.
Riding experience is necessary to have a perfect motorcycle trip in Vietnam. For non-experienced riders can travel as pillion passengers on the bike of a tour guide or other friends. We also provide a motorbike riding lesson for beginners and non-experienced riders at a friendly cost. We can also offer 1 hour to practice riding a motorbike for free for those who used to ride a motorbike but haven't ridden for many years.
Those are just a few of the many flexible ways we organize a motorbike tour in Vietnam by motorbikes. For more info please contact us at: Contact us
Our Great Adventure
Before we were organizers, we used to be riders therefore more than anyone, we know best what a quality trip needs. We strongly believe that a great tour will minimize your stress and maximize your happiness.
By joining Vietnam Motorbike Tour Experts, you are joining a group of like-minded riders, who share the same passion and enthusiasm for motorbikes and traveling on motorbike.
How We Ride
The regular tour at Vietnam Motorbike Tour Expert is from 9:00 a.m. to 4:30 p.m. However, the tour guide team will be as flexible as possible to meet the riders' needs.
We are planning the activities before the tour. The motorbike and also the routes are to be well-checked. Everything will be briefed to the riders before starting the tour. Moreover, if there's anything that does not suit your wish, you can immediately report it to suit your requirements.
Accommodation
We will carefully choose and book the certificated, cleanest, and finest homestay for you to enjoy all the pure and authentic Vietnam. The warm and friendly locals will share their spaces, culture, and traditional foods with riders. Staying homestay lets riders enjoy nature to the fullest, and feel the sincerity of the locals through the warm, clean, and cozy places.
Food
Besides 3 main dishes, along the tour, if you want to try any foods just raise your idea to have it. Each region will have different specialties. By joining the tour you can experience the traditional cuisine of the ethnic minorities who live in this outskirts mountainous region.
Check out our Food & Accommodation here.
Tour Guide
We are proud to say our local guide team is the main factor to make our reputation and make many customers return and do more tours with friends – the local tour guide. We now become close friends and it's hard to describe how close friends are but we can say all the guide team is real bikers who can speak fluently English, know the interesting routes to tour, and are helpful as friends. With rich experience, they know all the small roads and sites, culture, and the best sightseeing. Our Tour Guide is very good humor and fun also experienced.
The tours that VMTE provides
We provide 8 types of tours all over Vietnam, including:
If you want to go to the north of Vietnam to admire majestic and beautiful landscapes, such as Sa Pa, Mu Cang Chai, Dong Van, and Ban Gioc…, to explore the remote villages with diverse cultural identities of each ethnic group. In addition, if you want to try the North famous specialties, such as pho, bun cha, rolls,…We highly recommend 5 tours that are:
Northern Vietnam Motorbike Tours

Northwest Motorbike Tours

Northwest Motorbike Tours

Hanoi Motorbike Day Tours
The Central region has many relics of Vietnamese feudal dynasties, such as Hue, Hoi An, My Son… It is also home to many beautiful beaches and attracts tourists, such as Da Nang, Nha Trang, and Phan. In addition, the Central region also has many delicious and typical dishes, such as Hue beef noodle soup, banh xeo, Quang noodles, spring rolls… To enjoy all of this, you can embark on these tours:
Central Vietnam Motorbike Tours

Northeast Motorbike Tours
As one of the three regions with the most developed economies in Vietnam, the South is modern with Ho Chi Minh City being the largest economic, cultural, and educational center in the country. The South of Vietnam is also home to many historical sites related to the French and American resistance wars, such as the Independence Palace, Notre Dame Cathedral, Cu Chi… In addition, the South also has many attractive dishes and dishes. variety, such as bread, noodle soup, vermicelli, banh trang tron,… If you want to experience all of that, take a look at 2 tours:
Ho Chi Minh trail motorbike tours

South Vietnam Motorbike Tours
Each region will own its beauty, from majestic and poetic landscapes to crowded modern places. If you are about to join us, contact us to have the best tour that suits your requirements.