About Food & Accommodation On Tours
After a long riding day with a lot of activities. We know a comfortable place to rest overnight is a special concern. A relaxed and enjoyable accommodation is not only to state the quality of the tour but also to get the energy back for the possibly hard riding days after. At Vietnam Motorbike Tour Expert, we are offering 2 types of accommodation to meet your needs. Take a look to choose which kind of place will suit you.
2 Types of Accommodation that VMTE Provides
The Vietnam Motorbike Tour Expert offers only special tours to explore new things, so most of our tours are to remote mountainous areas where accommodations are not like in other big towns, although we will choose the best hotels in those areas most of them are just standard hotels or staying at a homestay. But don't worry, they're surely safe, and clean with free wifi and a hot shower and the equipment is comfortable enough for you.
Hotels
Most of the towns we stay in during the tour are pretty small where there may be only one or few little basic hotels; however, they will have most of the standard equipment for you to have a safe and comfortable stay such as soft mats, blankets, mosquito nets, Air-conditioning, clean toilets… and free wifi. We sometimes tour through some big cities/touristy areas and we can have better choices to stay in better 3 or 4-star hotels.
Why you should choose to stay in a hotel
Choosing a hotel for your trip is a good choice if you are seeking for these factors:
Safety and convenience: When you stay at the hotel, you and your property will be protected by security staff, cameras, and secure door locks. You can also rest assured to leave your luggage and personal belongings in the room without worrying about it being stolen or damaged.
Comfort and luxury: If you stay at a hotel, you can use the hotel's facilities such as wifi, air conditioning, television, swimming pool, spa, and restaurant,…to relax and release tired after a long day of exploring on a motorbike. Moreover, when you stay at the hotel, you will enjoy a private, and quiet space. You can also choose the type of room that suits your needs and preferences.
Saving time and money: Not only you don't need to spend a lot of time searching and comparing different places to stay but also you can book online through their official website. You can also take advantage of promotions, and discounts and accumulate points to save money on your trip. But on our tour, we are taking responsibility for this part, so you don't need to worry about this, just let us know what kind of accommodation you want to stay.
Home-stay
Staying with the local family, cooking and having meals with them, and sleeping in their houses is a special experience included in our motorcycle tours in North Vietnam. All the families we choose to stay with have special permits from the local government so they're certificated and they all have nice houses on stilts. Below is the equipment you can expect to have at the homestay such as private mats, blankets, mosquito nets, fans, clean toilets…and a great view and peaceful atmosphere.
Why you should choose to stay in homestays
There are many reasons why you should choose this kind of accommodation to stay, here are some main factors that you should look at.
Enrich your knowledge:

When staying in a house with locals, you will have the chance to meet and interact with local people. This is one of the best ways for you to learn about Vietnamese culture, customs, history, and life of your destination. You will hear interesting stories, learn useful experiences, and receive useful advice from the host for the best safety and wonderful trip.

The opportunity to meet the local people:

In the homestay, you will have the opportunity to get close, cultural contact, and communicate with the local people. In addition, you will feel everything is friendly and close, and feel the sincerity of the people here that no other hotel can afford.

Explore unique things:

You will experience a new, unique, and different living space as the homestay has design and decoration of the owner's style. You can stay in old houses, bungalows, cottages, or houses on stilts. You will have beautiful and unforgettable photos while staying at the homestay with the locals and their houses.
Vietnam Motorbike Tour Expert's Accommodation
We can say Vietnam tourism has been developing so well so please do not worry about the accommodations when on joining motorcycle tours in Vietnam. For our regular tours, we will choose to stay in hotels and homestay as mentioned above however, if you have any special requests on accommodation, we will be happy and do our best to meet your expectations. There will a lot of different types of hotels/accommodations to satisfy every need. We can easily find and stay in 4 to 5-star hotels in big cities or tourist areas. We can also stay only in special homestays during the tour or do camping at night sometimes. For any special requests for your accommodation, please feel free to let us know then you will enjoy the tour well for sure!
What for Food?
We would like to say food on the tours is one of the most important reasons to make our clients come back for more.
We serve almost local Vietnamese food on the tour. Generally, Vietnamese food is light but surely not boring and healthy. We can be sure all food is fresh with a lot of vegetables. We sometimes choose a basic roadside restaurant for meals but food is always fresh and plenty to choose from. Such as the famous PHO (rice noodle soup), BUN CHA (special noodles with grilled pork), NEM (Spring rolls)… The local people have different methods to cook so we can be sure you can have different food for each meal during the long motorcycle tours in Vietnam.
Famous dishes of 3 regions of Vietnam
Each dish will show a distinct feature in the cuisine and culture of each region. There are many delicious dishes to try in different regions of Vietnam.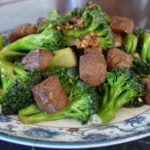 The North Food
In the North, some popular choices you can try such as Pho, Bun Cha, Fried Spring Rolls, Hai Phong Banh Da Cua, Ha Giang Buffalo Meat, Thang Co, Com Lam,…
If you want to try all of these, you can join our Northen Vietnam Motorcycle Tours such as:
The Central Region Food
Moving to the Central region, compared to other regions, the taste here will be more salty and spicy. You can try Hue beef noodle soup, Banh beo, Banh xeo, Hue spring rolls, Quang noodles, Cao Lau Hoi An, Da Lat grilled beef with guise leaves, and Chicken rice Tam Ky.
Em bark these tour to taste all of it:
The South Food
Finally, go to the South of Vietnam, you can try Vung Tau crab soup, Banh Trang Tron Saigon, Western fish sauce hot pot, Saigon broken rice, Tay Ninh beef, Can Tho noodle soup, Nam Vang noodle soup, and Thai Che. The taste of southern Vietnam is considered to be quite sweet and spicy than others.
You can embark on these tours to try all of those dishes:
Vietnam is a country with a deep history and rich cultural traditions. The dishes of each locality in Vietnam not only reflect the creativity of the people but also carry the spiritual meaning of each cultural value.
We strongly believe that Food and Accommodation are directly affected by the experience of the tour. Therefore our Vietnam Motorbike Tour Expert is minded to these factors. We will bring you the best experience when joining us, contact us here!