"When is the best time to join motorbike tour in Vietnam" is a popular question however it's not easy to give the correct answer because Vietnam is a long country and most of the area of Vietnam is mountainous so the climate is changeable and different in each parts in the same time. In some places, you can have 4 seasons in just one day. During the rainy season but you may have a whole week without any rain in the day. It may be sunny in one side of the mountain but the other side could be cloudy/foggy or rain.
Based on geographic and climatic conditions, there are 7 different climatic regions in Vietnam: Northwest, Northeast, North Delta (Red revier delta), North Central (North Central Coast), South Central (South Central Coast), Central Highlands, and the South. These seven regions are widely accepted within the Vietnamese climatological community. Generally, these 7 different climatic regions are grouped into 2 main types: The North (includes Northwest, Northeast, North Delta (Red River Delta), North Central (North Central Coast)) which includes all areas north of the Hải Vân Pass and the South (South Central Coast, Central Highlands and the extreme south) which includes all areas south of the Hải Vân Pass. These climatic regions are based on time of rainy season and other climatic elements such as insolation, sunshine, temperature, precipitation, and humidity. The diverse topography, wide range of latitudes (Vietnam spans over 15° of latitude), and influences from the South China Sea lead to climatic conditions varying significantly between regions.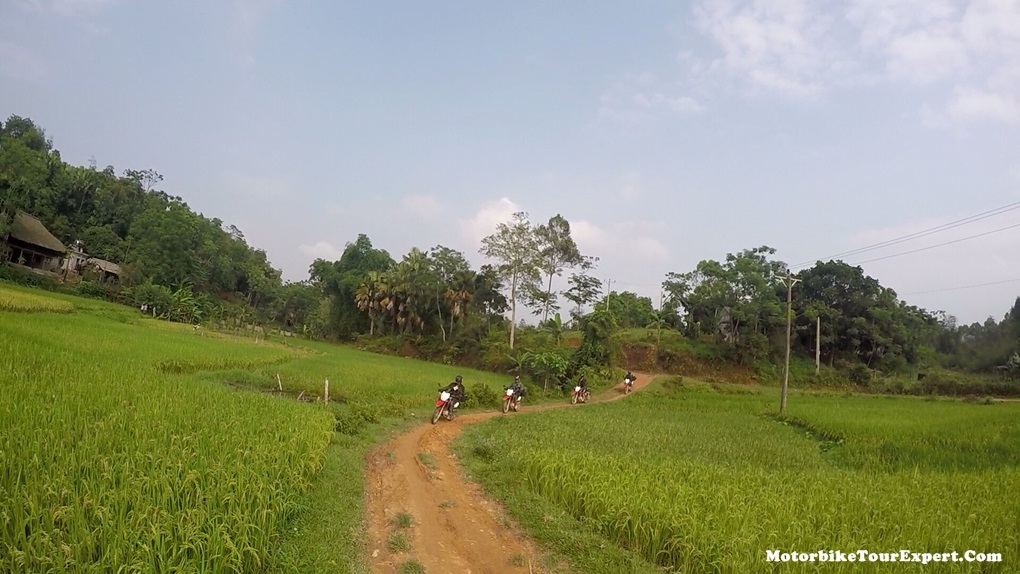 Below is our summery for the weather in North Vietnam and South Vietnam from Hoi An to Saigon so that you can choose your suitable time for your motorcycle tours in Vietnam:
North Vietnam: Spring (from Feb to April) and Autumn (from August – October) must be the best time to tour around North Vietnam by motorbikes. November December is quite cool and dry but could be foggy, January is quite cold in mountains (around 5 degree C). Rain usually in June – July.
+ Northwest Vietnam: The Northwest region includes the provinces of Lai Châu, Sơn La, and Điện Biên. The climate is characterized by cold, dry (little drizzly rain), sunny winters in which hoarfrost is common in many years: Summers are hot and rainy, coinciding with the rainy season although there is a high frequency of hot, dry days caused by westerly winds. Valleys are sheltered from wind, leading to a longer dry season and lower annual rainfall. The dry season usually lasts for 4–5 months. The average annual amount of sunshine hours is 1,800 to 2,000. Owing to diverse terrain and climate in this region, this leads to different types of forests being present.
+ Northeast Vietnam: The Northeast region includes the northern and northeastern provinces: Hà Giang, Phú Thọ, Cao Bang, Lạng Sơn, Bac Kan, Thái Nguyên, and Quảng Ninh… The climate is strongly influenced by the northeast monsoon.  Winters are cold, cloudy (little sunshine) that is characterized by drizzle. The cold comes earlier than other provinces. Summers are hot and rainy that coincide with the rainy season. However, unlike the northwest, dry conditions are rare due to a low frequency of westerly winds. The rainy season usually lasts from May–September although its duration can vary from 4 to 10 months. In the Hoang Lien Son mountains, winters are cold where snowfall and hoarfrost can occasionally occur. These mountains have the highest rainfall in the country. The average annual amount of sunshine hours is 1,400 to 1,700 (source from Wikipedia)
South Vietnam: With almost sunny and hot days year-round, usually rains in the afternoon from May – November but normally quick rain or rain in the late afternoon.
Our answer: We organize motorbike tours in Vietnam in whole year-round and we can say each time of year has pros and cons. As we say, It may rain usually from June – August but it's just like a quick shower then stop to be sunny again and the pros of this time is that you can see the most beautiful color in the mountain with full of rice terraces and blue sky everyday with rainbow sometimes.
Or Feb – April is a cool and dry time for touring Vietnam by motorbike but it could be sometimes foggy or drizzle so the view is limited on some un-lucky days.
-Vietnam Motorbike Tour Expert –