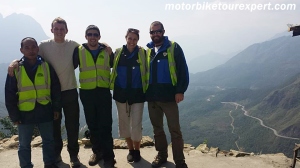 A friend and I booked onto the 6 day North Western loop tour via Sapa and were joined by an Australian couple, and it was our best motorbike tour in Vietnam. Our tour guide Sy and mechanic Mr Tu. We went mid October and apart from one morning when it tipped it (Mr Tu Quickly found us some cheap full water proofs!) we had blue skies the whole time. One night there was a biblical lightning storm which was nothing but awesome but other than that is was always dry.
The route our guide took us on was great. Sy explained the route and any options to us each day and stopped at some good spots for breaks and picture opportunities. He also took every opportunity to take the road less travelled, disused or just off road. The first day took us out of hanoi and through some nice villages starting to see some high peaks. The middle four days had some great rides through valleys along winding roads through farmland and forest following the contours of the mountains which pop up out of nowhere. The climb up to 2400M near Sapa was a highlight and the road to the peak was great fun. There were highlights every day but the ride to Thac Ba Lake like the route to Sapa was stuning (Mr Tu Took us on a boat ride when we arrived).
Our bikes where the Honda XR125s which were maybe a little slow on the pick-up but still great fun on the good mountain road and lightweigth, comfortable and capable on the offroad sections (the company just got some CRF 250s as our tour ended so I'd go for them next time). We did about 1000km on them which was about right for 6 days. Many thanks for the great team of Vietnam Motorbike Tour Expert.
– This is a comment from Jack Wakley – an English guy who did the trip in October, 2014 enjoyed it and try to post this on TripAdisor 3 times but all failed due to complicated guidelines of the website – You can contact to ask Jack more about it at : [email protected] –