A review from Daniel from Australia ([email protected]) who did a 6 day Motorbike Touring Vietnam with us in November 2013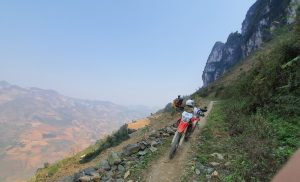 Thanks so much Vietnam Motorbike Tour Expert team! I can not say enough of our incredible motorbike tour in North Vietnam with them. We did the Amazing Bike Tour with 2 other friends in November 2013, and we loved every second of it. Everything was simply incredible and every day had countless highlights; The roads, the home stays, the tours & sight-seeing, and especially all the people we met. It was brilliant. Oh, and the food……wow, it was so amazing!!! And not a single issue with getting sick.
We had virtually brand new Honda XR125's and they were great to ride. You don't need anything bigger for these tours. Our guide Chung was brilliant, great fun very easy to get along with. I can honestly say I could not have seen or experienced so much of this beautiful country without Chung.
We are planning to go back again this year to tour another region and will be taking more friends to share this very touching and enjoyable experience. It's oviously we will choose their organization to have another great motorcycle trip in Vietnam. Thoroughly recommended!!!!
Thank you very much Daniel, John and Al for coming and touring with us. We do hope to do another great motorcycle tour in Vietnam with you in the future.
Here is the details of the motorbike tour North Vietnam that we did with Daniel and friends: https://motorbiketourexpert.com/uncategorized/amazing-ha-giang-motorbike-tour/