Great Motorcycle North Vietnam
A review of Rico Becker from Germany (becker.rico@bdal.de)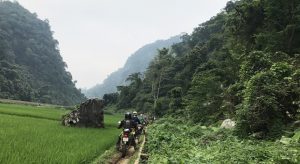 After my first trip to Mai Chau with Chung, I decided to do another one with him. And I was completely satisfied like the first time.
The tour was well organized, in time and overall very exiting. They are taking care on security (equipment was provided), the new Honda CRF250L and Honfa XR150L are perfect for such a trip. What I really like is to be flexible in all cases. So he was following my wishes, had stops for photos, using dirt tracks, did a boat trip and get the full Vietnamese experience. I was impressed about local introduction, he was aware about the important details for the region. I was several times in Vietnam, but doing a well guided tour on a motorbike is the best way to discover the country and get in touch with the locals.
I'm sure you will find tour agents with lower prices, but the money you spend with Vietnam Motorbike Tour Experts is well invested. You don't have to take care on additional expenses, nearly everything is included.
For this year I intend to do an additional tour with a few friends to Sapa, and of course again with Vietnam Motorbike Tour Experts.
The tour we did: Motorcycle Tour Mai Chau Valley – 2 Days, And Short Motorbike Tour North Vietnam – 3 Days
=> Thank you very much Rico for touring with us we're so happy to hear that you enjoyed the motorbike ride with us and we look forward very much to having another great motorbike trips with you in Vietnam.