Touring Vietnam by motorbikes becomes more and more popular for motorcycle riders around the world. More and more Vietnam motorcycle tours companies are opened in last 10 years…they are being run by local and foreigner tour organizers so it is now easy to find information for any riders who are interested in any kind of motorbike tours in Vietnam.
Here are some other information from the local guide team of Vietnam Motorbike Tour Expert . Vietnam Motorbike Tour Expert is a group of local tour guides and operators who worked in tourism and riding motorbikes for nearly 20 years and keep riding more and more everyday so we hope some of all this information could be helpful for the every riders before booking Vietnam motorbike tours.
1. Why we should travel Vietnam by motorbikes?
Because it's the only way you can see the REAL VIETNAM!
There are plenty of reasons for you to tour Vietnam by motorbikes such as: Vietnam is a country of motorbikes, motorbike is a king in Vietnam or best flexibility…however one of the top reasons is that Vietnam have amazing routes for motorcycle touring:
Vietnam is a long and narrow country with around 70% of the area is mountainous so it's no double to say Vietnam has some of the best routes for motorbike riding that can make any motorcycle fans fall in love with. All our Vietnam motorbike tours always includes riding on the breath-taking mountain passes or scenic backroads with authentic view of countryside and nature; in addition, Vietnam has more than 2000 km coastlines so it is also a favourite country for the ones who love to ride along the coast.
Besides, our Vietnam motorbike tours are almost to the remote areas where you can see plenty of colourful ethnic hill tribes so it also the best choice for the one who would love to ride motorbikes and discover the local traditional culture. Some people after doing a motorbike tour with us state that "if you don't ride to the remote areas in Vietnam, it means you've never been to the real Vietnam"
2. Is it safe to ride motorbikes in Vietnam?
The most popular question and also it's hardest question is that "is it safe to ride in Vietnam?" It's hard to give the correct answer because it's depending on each rider's riding skill or each person's carefulness… but you should trust the ones who did a long motorbike tour in Vietnam. All the bikers after doing Vietnam motorbike tours with us usually say traffic in Vietnam is funny or crazy. Some people say you should forget all the rules when you ride in Vietnam "NO RULES in Vietnam". It is almost right because the the local people do not ride carefully, they get the license easily, some people can buy license easily so they don't ride carefully with almost 'No rules'. So we can say it's not very safe to ride motorbikes in Vietnam. However, it's only true for the one who ride themselves. If you can ride after a local tour guide who can take you on safe and unique routes, you will never die in Vietnam.
Here are some safety tips for motorcycle touring in Vietnam:
• Wear protective gear: Always wear a helmet, gloves, and sturdy clothing to protect yourself in the event of an accident. Consider investing in additional protective gear such as body armor or a riding jacket.
• Drive defensively: Vietnamese roads can be chaotic and unpredictable, with heavy traffic, erratic drivers, and poor road conditions. Drive defensively, anticipate the actions of other drivers, and give yourself plenty of time to react.
• Know the rules of the road: Familiarize yourself with the traffic laws in Vietnam, including the proper way to use hand signals and the rules for passing and merging.
• Stay alert: Long hours of riding can be tiring, so be sure to take frequent breaks, drink plenty of water, and avoid driving at night if possible.
• Check your motorcycle before each ride: Make sure your motorcycle is in good condition, with working brakes, lights, and tires, and that all fluid levels are at the proper level. If you take a guided tour with us, our experienced guide and mechanic team will take care of all these stuff everyday to make sure your bikes are always in great condition. We know the bikes make the quality of the tours
• Be aware of road hazards: Look out for potholes, loose gravel, and other road hazards, and slow down when you encounter them.
• Avoid riding under the influence of drugs or alcohol: Impairment can seriously impact your ability to drive safely and increases the risk of an accident.
• By following these tips, you can reduce the risk of an accident and have a more enjoyable and safe motorcycle tours in Vietnam.
3. Guided motorbike tours or Self-guided motorbike tours?
Like we mentioned above, It's not easy to ride in Vietnam because the rules here are different and the local riders, driver don't ride and drive carefully so it's oviously that taking a guided motorbike tour is always the best choice. When joining our guided Vietnam motorbike tours, you don't care about the GPS or being lost. Our local guide will take you on the most beautiful routes and the safest possible ones. Vietnam is quite small country with busy population so most of the roads are busy and dangerous however quality Vietnam motorbike tours are not on those busy roads, our local guide will take you on safe and unique roads that only local people knows. Some of them are even not exit on the google map. So let's take a guided motorbike tour to make it become the best possible trip.
4. Do I need a motorbike license to ride in Vietnam?
"Do I need a motorbike license or which kind of motorbike license are legal to ride in Vietnam?" Is a quite popular question and it's still complicated to give the clear answers.
Relating to the Vienna Convention on Road Traffic in 1968, International Drivers Permits (IDP) are legal here in Vietnam if your home country has signed agreement at the 1968 Vienna Convention on Road Traffic, and your motorbike license from your home country must be registered on the IDP. The UK, Australia and many other countries did not sign the agreement at the 1968 Vienna Convention on Road Traffic and their licenses are not recognized in Vietnam.
So depending on from which country you get the IPD, you can ride in Vietnam legally or not; however, it's just the law, it's pretty easy on the road. The local people and policemen are quite friendly with foreigner tourists so if you can ride a motorbike well and especially with a local tour guide, NOBODY will care about your license or stop you when you are on tour with a local tour guide.
In addition, it's now easier to Convert your regular motorbike licences into IDP or local motorbike licenses in Vietnam that you can ride legally in Vietnam.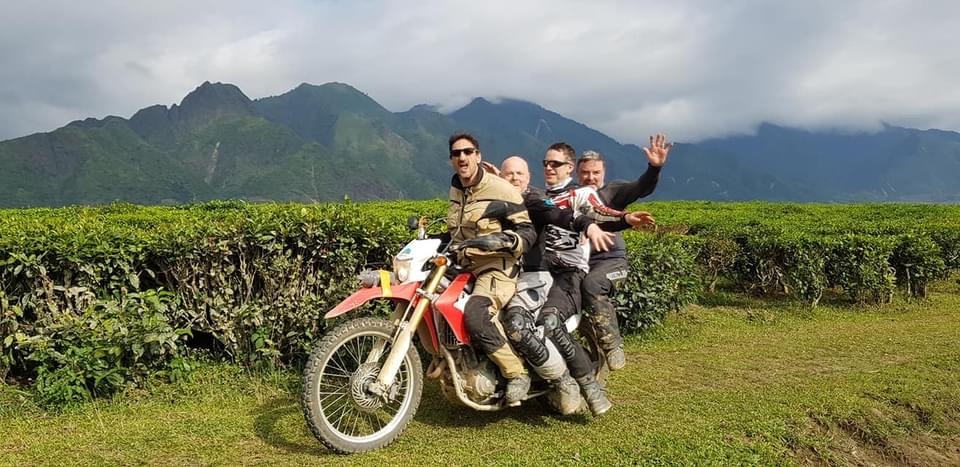 5. Food and Accommodation while touring Vietnam by motorbikes
Most of our motorcycle tours in Vietnam are off the beaten tracks to noon touristy/ unknown attractions…so we hope you understand and do not expect too much to have luxury hotels with plenty choices of fancy meals. We do have some tours to big towns/cities in Vietnam where you can stay in luxury hotels with fancy meals are available…however, most of our tours have just basic hotels. We will surely choose the best hotel in the region where we stay but they're just basic standard ones but as you know the experience to ride off the beaten tracks to these remote areas is worthless.
Accommodations:
As mentioned all of our motorbike tours are off the beaten tracks so we will do stay between hotels and home-stay.
+ Homestay: Staying at homestay is a special experience that you can't miss during the bike tours in Vietnam. All the homestays are legally licenced by Vietnamese government to ensure the safety, hygiene…and they are well chosen by experienced guide team of Vietnam Motorbike Tour Expert to make sure your stays are worthy, enjoyable and memorable. All the homestay we choose are nicely wooden houses, they are all traditional typical houses in the region with friendly hosts who can cook great local food that can meet expectation of any foreigners. In addition, the view of the homestay is of the important factors for to choose. Most of the homestay have a great view of countryside /nature and well connecting with the community.
+ Hotel: We would like to say again, during our Vietnam motorcycle tours, we will pick the best hotels in towns but they're almost in the remote areas where you can only find the basic standard hotels: They all will have free wifi, hot shower, clean and western-styled toilet…and a great view of nature.
6. When Is The Best Time to Take a Motorbike Tour in Vietnam?
With the length of more than 2000 km, Vietnam is a long and narrow country so we can say the weather is changeable and quite different between North Vietnam, Central Vietnam or South Vietnam. The weather will also vary through the country depending on the time of year you travel. In addition, most of the area of the country is mountainous so it's hard to pick up the best time for any kind of travel in Vietnam. It's best to check the weather in the specific parts of Vietnam that you are planning to go to before deciding when is the best time to take your trip to Vietnam.
In our experience, it's best for any motorbike tours in North Vietnam from February to May, February to early May is quite dry and not too cold or too hot in northern Vietnam. January to April is a great time to travel Central Vietnam and December through to March in southern Vietnam. February/March are the 2 good months you can travel most parts of the country. You would better to contact the experienced tour organizer to check the weather before booking Vietnam motorbike tours.