"When is the best time to travel to Vietnam by motorbikes" is a popular question and it's not easy to give the correct answer.
The reason is that most of the area of Vietnam is mountainous so the climate is changeable like "women's character". In some places, you can have 4 seasons in just one day. During the rainy season but you may have a whole week without any rain in the day. It may be sunny in one side of the mountain but the other side could be cloudy/foggy or rain.
The other reason is that Vietnam is a long and narrow country so the weather between the North, South and Central is quite different. The rain season in North Vietnam is from June to August but the South or Central Vietnam has rain later from September to November.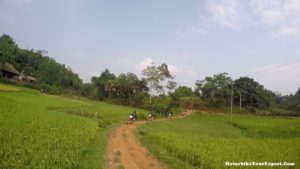 Below is our summery for the weather in North Vietnam and South Vietnam from Hoi An to Saigon so that you can choose your suitable time for your motorcycle tours in Vietnam:
North Vietnam: Spring (from Feb to April) and Autumn (from August – October) must be the best time to tour around North Vietnam by motorbikes. November December is quite cool and dry but could be foggy, January is quite cold in mountains (around 5 degree C). Rain usually in June – July.
South Vietnam: With almost sunny and hot days year-round, usually rains in the afternoon from May – November but normally quick rain or rain in the late afternoon.
Our answer:  We organize motorbike tours in Vietnam in whole year-round and we can say each time of year has pros and cons. As we say, It may rain usually from June – August but it's just like a quick shower then stop to be sunny again and the pros of this time is that you can see the most beautiful color in the mountain with full of rice terraces and blue sky everyday with rainbow sometimes.
Or Feb – April is a cool and dry time for touring Vietnam by motorbike but it could be sometimes foggy or drizzle so the view is limited on some un-lucky days.
-Vietnam Motorbike Tour Expert –