All Information about Ba Be Lake & National Park
(Ba Be lake Motorbike Tours)
Ba Be Lake – Another Halong bay on mountains. The lake is about 240 km from Hanoi, The road is quite difficult for buses but it is very good for riding motorbike, After 100 km from city centre, you will ride on the small and winding road through the forest and mountains. It takes only one day by motorcycle riding. After one day motorbike ride, you will be in the heart of the biggest National Park in northeast Vietnam – Ba Be. You can spend 1,2 or 3 days here to discover the Ba Be lake – the largest natural lake in Vietnam, to do trekking in the park, motorbike ride around to see the villages of the hill tribes and to visit some "off-the beaten" limestone caves…
Ba Be Lake have a area of water surface around 500ha, with 8 km in length and 1 km in width it is known as the biggest natural lake in Vietnam, situated in Ba Be district – carster terrain pertaining to low-lying lands of North Vietnam raising mass. This raising mass was formed by the destruction of South East Asia continental mass at the end of Cambri era, around 250 million years ago. Due to its special geological constitution, the Lake has very original and special features compared with other world-wide karster lakes: world karster lakes are spent or only with one-season water, while Ba Be Lake has its permanent full-water.
Ba Be National Park takes a 23,340ha area in 7 communes of Ba Be district, Bac Can province to the Northeast of Hanoi. The terrain covers most of limestone rocks inserted with a few earth hills with medium to abrupt slope, the lake is around 150-1,535m above sea level.
Ba Be Lake is in the Ba Be National Park Center with likely special configuration contracted in the middle and swollen out on the two ends, surrounded by cliffs with very original and attractive forms and shapes. Through influenced by 3 rivers flows discharging their water into the Lake, lake water remain always blue and its current velocity is kept on at 0,5m/sec. giving the take both lake and river characteristics.
The lake has an average depth from 20 to 40 m. Lake bed is not plain but with much of submersible mounts and grottoes. There are ideal home ranges for aquatic animals.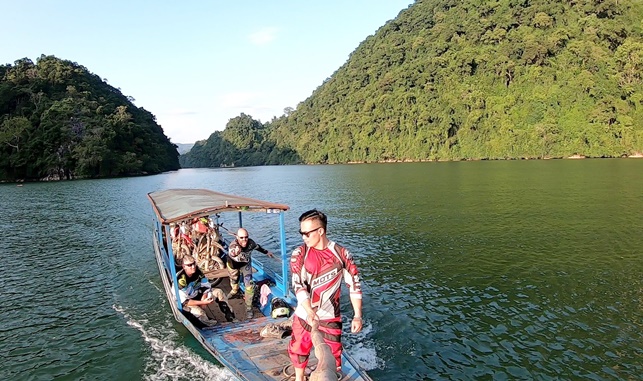 According to primary survey documents, There are 417 species of trees including 300 branches, 114 families. Also, you can see popularly hundreds of orchids and species of medicine-plants. The system of animals including; land, aquatic and flying animals covering 319 species of animals in 27 forms, 85 families in which 42 species recorded in Vietnam Red Book.
Beside the natural beauty and the value of the Ba Be national park, the roads to this areas are also ideals for Vietnamese bikers and all fans of motorcycle touring. Vietnam Motorbike Tour Expert do have few options for on and offroad motorbike tours to Ba Be lake and National park or some of our Vietnam motorbike tours include this beautiful area. Please contact us to join one of them or together we can customize your own tours.
Here are some of our suggestions: