Duration:
11 Days/ 10 Nights
Destination:
Hoi An - My Son - Kon Tum - Quy Nhon - Nha Trang - Da Lat - Mui Ne - Lagi - Saigon
Are you looking for a motorcycle tour in Vietnam including mountains and the coast views? This 11 Day Vietnam motorbike tour from Hoi An to Saigon is the one you need. You can start the tour from Hoi An or Da Nang then hit road ups and downs on the highlands then enjoying the ride on the coastlines down to the South of Vietnam. Beside the nice view from coastal roads, the tour also offers a lot of beautiful mountain views with interesting discovery of the local hill tribes's culture. It's on of the most recommended Vietnam motorbike tours from Hoi An.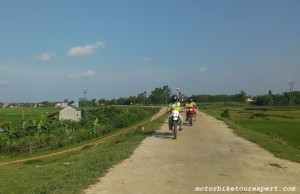 Day 1: Hoi An – My Son – Kham Duc: 165 KM
We can start this motorbike tour to the South of Vietnam from Da Nang or Hoi An. We'll come to pick you up at the hotel then start the tour from there, after getting out of the town center, we'll ride on the small back-roads with nice view of countryside and rice fields. We'll pay a interesting visit to the My Son Holy land – the Cultural world heritage of Vietnam where you can learn more about the Vietnam history and the Cham's culture. After My Son, we'll continue the enjoyable ride to Kham Duc, the ride is more ups and downs but offering nice view of mountains with waterfalls and rivers. We'll arrive Kham Duc town at 4:30 pm. Stay in a small hotel in town.
Day 2: Kham Đuc – Kontum: 180 km
We'll keep motorcycle touring on the Ho Chi Minh trail (known as the road No14). We will have great motorcycle ride in central highlands Vietnam crossing the beautiful Lo Xo Pass, making lots of stops along the way to meet De and Trieng minorities, who live along the Dak Po Ko river. Along the river we can see many amazing hanging bridges – called Monkey bridges built by the local people and used by them everyday to cross the river, we also pass one of the key towns and battle sites of the Vietnam War – Dak To and outpost Charlie Hill.
Stay in a hotel in Kon Tum.
Day 3: Kontum – Quy Nhon: 190 km
After breakfast, we are heading to Quy Nhon, a city with a lot of beautiful beaches. It's an easy motorbike ride today because we're riding down from mountain to the coast. We'll have some stops on the way to visit other different ethnic groups before getting to lower lands. We'll arrive at the hotel around 4:30 p.m then we can do swimming at the beaches, it surely make you refresh the body after a long motorbike touring through the highlands. Stay in a hotel.
Day 4: Quy Nhon – Nha Trang: 225 km (Vietnam Motorbike tour along coastlines)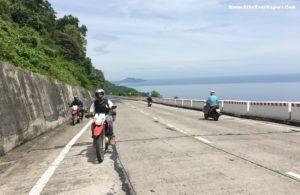 You'll see today totally different view from the days before.
Today, we just follow the smooth road No1D along the coast. It will be highlight of this Vietnam motorbike tour if you are interested in bays or beaches. We'll go up to some beautiful passes such as: Cu Mong, Ca… where we can see far away to the ocean. You may be blown away by the beauty of untouched beaches with strange rock formation.
Hotel in Nha Trang.
Day 5: Nha Trang – Buon Me Thuat: 190 km
After saying good bye to Nha Trang, we'll continue the Central highlands Vietnam motorbike touring. It's a relaxed pace ride up into cooler Central Highlands winding mountain road with stunning views, passing roadside waterfalls, small villages to hilltop retreat of Buon Me Thuot, where is highly praised and well-known for its Coffee production. Stay in a hotel in Buon Me Thuat.
Day 6: Buon Me Thuat – lak Lake: 150 km
It's a short and enjoyable riding day of the tour. This motorbike tour to Lak Lake includes a lot of stops for enjoying the nature beauty, natural waterfall, lakes and interesting visits to many hill tribes. In the morning we go to the majestic Dray Nur waterfalls then in the afternoon we go to lak lake. Check in to the hotel then we visit the local M'nong Ethnic hill tribe. You can have elephant riding through some village and in the evening we may enjoy a traditional music performance of the M'nong ethnic people (it's optional)\
Stay at home-stay.
Day 7: Lak Lake – Da Lat: 170 km
We keep great motorbike touring to Da Lat on the winding roads passing through lush green forests and coffee farm, spent a lot of time on Langbian plateau 1600ft above sea level just because of stunning view. Dalat is highly praised and well-known for its lakes, waterfalls, pine forests and French styled villas… Da Lat is also known as one of the best destination in Vietnam for honeymoon so Da Lat is one of the highlight of this Central Vietnam motorbike tour. Stay in a hotel.
Day 8: Da Lat – Bao Loc: 140 km
Continue traveling to the Central Highlands and stop in the K'ho ethnic minority village to learn the culture of their wild life in the edge of the Central Highlands. Arrive in Bao Loc after visiting Dambri waterfall – about 90 meters high. Stay at a hotel in Bao Loc town.
Day 9: Bao Loc – Mui Ne: 175 km
start motorcycle touring to Mui Ne beach from early morning to have more time at beautiful Mui Ne in the afternoon, before getting to one of the most beautiful beaches in Vietnam – Mui Ne we we will ride to cross some beautiful terrace tea fields, Dambri waterfall – one of the highest waterfalls in Vietnam and some peaceful villages of hill tribes. Once we get close to the coastlines we will ride pass through some white sand dunes, red canyon, fairy springs and fishing. It's one of the best day of this motorbike tour in Vietnam.
Arrive in Mui Ne at 5:00 pm stay in a hotel.
Day 10: Mui Ne – Lagi: 120 km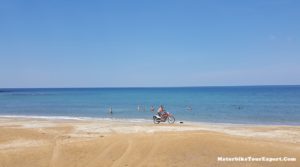 It's another short and relaxing riding day, it offers another great motorbike tour on coastal roads to South of Vietnam. Beside some beautiful coastlines, we can take more visits to Thay Thim temple, Takou Mountain, colorful fishing market and the hill tribes' villages…learn more about the Champa history and culture. We'll stay in a little gest house nearby the beach.
Day 11: Lagi – HCM: 170 km
We end the final riding day of the tour with quite difficult ride to the city of Ho Chi Minh. We in the morning continue the motorbike tour on the coastal road down to the South Vietnam, keep enjoying the view of the cost on the quiet road until the early afternoon when we head closer to the city center. We will do the best to finish the tour before rush hours, say good bye to the team of Vietnam Motorbike Tour Expert then enjoy the time in the city.
know which kind of bikes you'd like to ride and how many people in your group then we will give you the right price of the tour.